In the EETimes report on this year's International Solid States Circuit Conference (ISSCC), called Pictures From a Silicon Exhibition, there are two references to MCUs that operate with a supply less than one volt. These millivolt MCUs may represent the ultimate in low-power design. It will probably be a good five years before the technology reaches commercial availability, however.
There are MCUs already available that can tolerate an ultra-low supply voltage. The Atmel 8-bit tinyAVR, for instance, can run with a 0.7V supply. But these devices simply use an on-chip charge pump to boost the internal supply voltage to the level needed. The millivolt MCUs, on the other hand, do not. They run with their internal core less than a volt.
Intel is a pioneer in this ultra-low voltage field and was demonstrating its Claremont chip at the ISSCC. This device was first announced at the Intel Developer Forum back in September. The code-named Claremont processor runs near the turn-on threshold for transistors, in the 300mV to 400mV range. This near threshold voltage (NTV) processor is not the basis of any planned products, according to Intel, but is an experimental unit that will aide in the development of such processors in the future.
Also at the ISSCC, some German researchers from the University of Paderborn's Heinz Nixdorf Institute of Electrical Engineering were showing their CORVEA ULP (ultra low power) processor.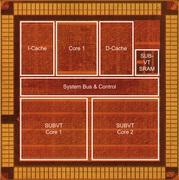 This device, also experimental, uses adaptive techniques to keep its power demand as low as possible, and proved capable of performing useful work running below 350mV. The
paper describing their device
is only available in German, but
Babblefish
does a reasonable job of translating it for non-German speakers.
This technology, once it reaches the market, promises to further expand the range of possibilities for smart networks and embedded computing using methods like energy harvesting to power them. It doesn't take much solar, thermal, or mechanical input to produce a half volt at a few hundred nano-amps. When that is all the processor requires, barriers such as location and accessibility simply disappear.
Sure, this is all a few years away. But it probably will be less than a decade. So, now might be the time to start brainstorming about what you would do with a processor that needs almost no power. Got any ideas?