This is my 100th blog for Microcontroller Central since the site debuted mid-January. During the count up to 100, MCC has seen an outstanding response from the developer community in terms of page views, new members joining, Facebook "Likes," and other Web metrics. To celebrate your high levels of enthusiasm (as well as my minor milestone) MCC is hosting a micro-design contest. Here's how it works:
Theme: Changing the World With Android.
To enter: Submit a design proposal for an MCU-based device that uses an Android platform (tablet, smartphone, etc.) as the user/control interface. You submit by posting your entry on the site's reader boards, with a headline that says "Contest Entry:" followed by your design's name or title. The posting should describe what your device will do and how it interacts with the Android platform. The more detail the better, but entries should be at least 100 words long and give readers and judges enough information to evaluate your design's feasibility (could it really work) when they are choosing finalists.
Prizes: The first 100 contest entrants (based on posting time) will receive a $5 Starbuck's gift card. All entries made before midnight, EDT (0400 +1 UTC) on July 4, 2012 will be eligible for judging and award of finalist prizes. Only one entry allowed per person. Team entries are welcome but will be treated as a single entry for the awarding of prizes.
Ten finalists will receive an NXP Android Open Accessory Applications (AOAA) kit so that they can turn their idea into reality.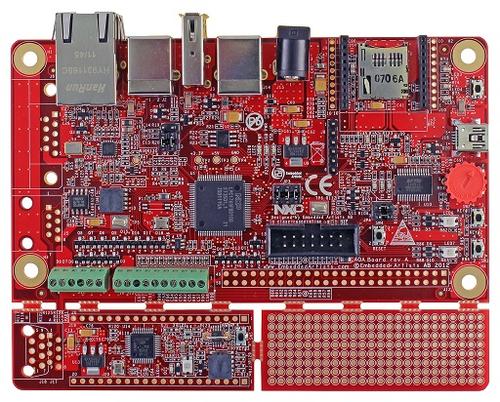 Judging: The MCC editor in chief (that's me) will head a panel of judges who will select nine finalists. The proposal's originality and feasibility will figure high in the evaluation. Designs can be for fun or for practical applications. Designs that make effective use of the AOAA kit's resources and those with the potential to effect positive change in the world will receive extra consideration.
You can participate even if you do not submit a design proposal. The entry that generates the most favorable community response in terms of comments and "thumbs-up" votes will be the 10th finalist. Comment on and vote for your favorite entries to help pick a winner!
I will announce the finalists on the site the week of July 15.
Administrivia: Only one entry per person. Employees of UBM and NXP are ineligible for prize awards. Decisions of the judges are final. Any taxes, import duties, and the like are the prize winner's responsibility. And so on. For a full list of contest regulations, check out the Terms and Conditions.
That's it! So, put on your thinking caps and fire off a thoughtful design proposal. You could win a kit that will allow you to put those thoughts into action, and help change the world one bit at a time.