Need a battery that's small but packs a punch? Want it to be rechargeable? Don't have a lot of volume available in your design envelope? A solution may soon be available.
Many MCU-based designs need to operate under battery power, but aren't well served by today's battery technology. Small-cell batteries are typically not rechargeable, requiring designs to be made accessible so that users can change batteries. Rechargeable batteries can often be quite bulky, which may preclude their use in highly-compact devices.
Those restrictions may soon change, however. Infinite Power Solutions (IPS) has recently demonstrated a new solid-state battery technology that promises to be compact and capable of taking on complex form factors. Further, the battery uses no gels or liquids, eliminating the risk of leakage. Because the battery also has no risk of thermal runaway, it is on track to replace conventional lithium-ion batteries for safer, more compact mobile device designs.
The battery design consists of multiple cell layers, each of which is 110 microns thick. Arranged and connected appropriately into an encapsulated bundle about the size of five stacked playing cards, a battery could supply more than 1.4Ah at 3.95V between charges. Other shapes are possible, allowing the battery design to wrap around circuits and otherwise conform to available spaces.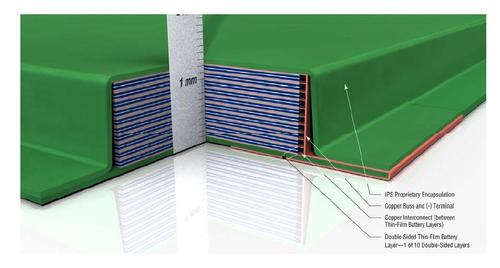 The battery is not yet in production, although there is a clear pathway to that goal. IPS has a whitepaper describing the battery technology and its proposed approach to full-scale manufacturing. All that is needed is a major design in from the technology's anticipated initial user, cellphones.
MCU developers stand to benefit from this battery technology once production begins, especially those with high-volume applications that can support custom battery designs. Having an ultra-thin, high-capacity, rechargeable battery with no leakage risks will make practical a host of compact devices.