The MCC site sponsor NXP has recently released new single-chip wireless microcontrollers. What really intrigues me about these devices is their ability to work with low power. Low enough that their wireless links can work off of harvested energy.
The latest NXP introduction is part of its JN5100 series. These devices integrate a low-power 32-bit MCU with a full 802.15.4-complient RF transceiver. There are several devices in the series, some targeting ZigBee, some for RF4CE, and some for NXP's own JenNet-IP protocols that provide a link between IPv6 networks and a self-healing mesh. The new devices are currently sampling with lead customers and will be available (along with evaluation kits) from distributors this coming January.
One of the things that got my attention in the press release, though, was a demonstration video showing a light and switch that used the devices for wireless lighting control. The light, naturally, got the power for the MCU from the AC mains that also powered the bulb. The switch, however, had no wiring. It got the power for the MCU from the user. Tripping the switch generated enough energy to power up the MCU, establish its network connection, and send commands to the light wirelessly.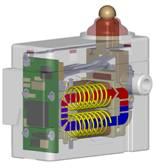 Cherry, a division of ZF Electronics, has developed the energy harvesting switch used in the demo. The switch is capable of generating as much as 0.5 mWs (milliwatt seconds, or milliJoules) of electrical energy, which is only enough to power the wireless MCU (15mA when transmitting) for a fraction of a second. But that fraction is more than long enough to get the message across.
These low-power wireless MCUs and their like open up a host of potential applications well beyond the ability to create lighting systems where the switches don't need any wiring connections. They can also be used for environmental sensors that get their energy from environmental heat, light, light, or motion that might otherwise go to waste. No batteries needed; just an energy source.
There are lots of energy harvesting opportunities around us. Some systems can capture RF energy from broadcast radio and television. Others use the sap of trees as part of an electrochemical reaction to generate electricity from living plants. Vibration, bending, compression, and virtually every other kind of mechanical operation can be used to generate a small amount of electricity. Devices like these ensure that even that small amount is enough to get a message out to the network.
What kind of message would your design send, and what would your source of energy be?