Developers seeking flexibility in their choice for a low-cost platform will not need to wait much longer. NXP has announced plans to create a board compatible with three different platforms, and scheduled its release for April.
The LPC-800 MAX development board that NXP is announcing at Embedded World uses the LPC812 MCU as its central processor. The board's native format follows the LPCXpresso platform patterns used in other NXP development boards. The LPCXpresso IDE will support programming and debugging the board using the on-board CMSIS-DAP interface, with no LPC-Link needed, and the LPCXpresso connector on the board is compatible with existing baseboards.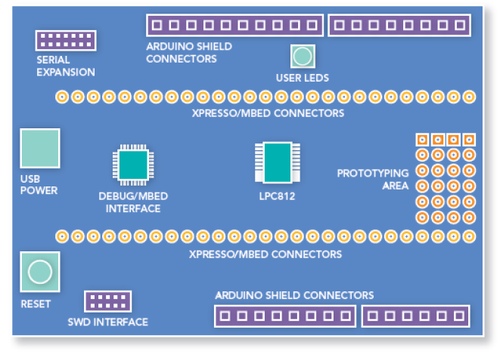 But to maximize the developer's options, the board offers two additional pin out patterns. By leveraging the I/O switching matrix embeddedd in the LPC812, NXP is able to re-route I/O to match the popular Mbed and Arduino Uno. This means that the many different hardware extensions available for these platforms are pin-compatible with the LPC-800 AX, as are many of the development tools.
Because the LPC812 is based on the ARM Cortex M0, for instance all the Mbed online development tools will support the new board. The environment will be able to recognize the LPC-800 MAX and treat it like a mass storage device, allowing you to drop your code's binary image onto the platform and have it automatically program the code into Flash memory. The board will also show up as a CMSIS-DAP compatible device allowing users to develop and debug code using any compatible "off-line" tool chain, such as the ARM-MDK.
Because the Arduino is based on a different processor, its tools will not produce a compatible binary image. Still, the more than 50 hardware shields and any related source-level drivers now available for the Arduino will be pin-compatible with the LPC-800 MAX, giving developers access to a tremendous range of hardware options.
The board's expected cost target is $20 USD (16 Euro) with target availability in April.
I find this board's introduction particularly interesting in its inclusion of Arduino compatibility. Intended as an educational tool and popular among hobbyists, the Arduino has seen considerable grass-roots support arise. The advent of a professional development board that can leverage that support represents an important bridge between the two development camps.
What's your opinion?