There is increasing interest worldwide in the "Internet of Things" (IoT). Internet-connected objects can provide almost universal control, and remarkable engineering solutions are thus arising for almost all spheres of uses. With the Internet now spread across all the dimensions of our Mother Earth, IoT devices will be readily accessible, providing better control over our systems as well as additional security.
An illustration of what is possible appears below. With each and every thing connected to the Internet in one way or another, devices can interact with each other, exchanging information that helps coordinate their activities to the user's benefit.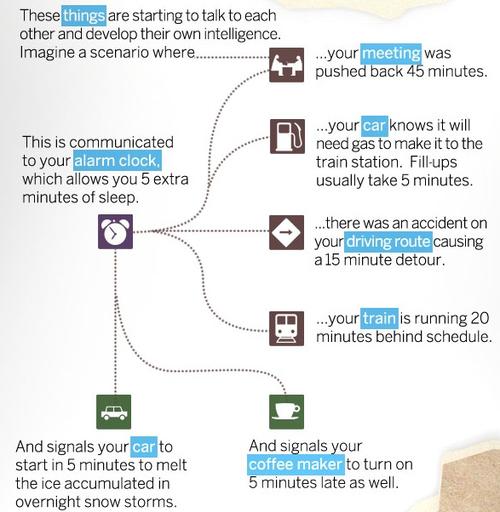 Things that can be connected to the Internet include such things as clocks, coffee makers, cars, and almost anything electronic, provided one is able to hack it and find a suitable interface to the controller or mechanisms within. But the list of "things" can also include non-electronics like flower pots (for example you could know if someone picked it up or determine the amount of moisture in the soil) or doors (one can fix a variable resistor aligned to the door's movement so that you can tell when the door moves and to what angle). Of course, in these non-electronic cases one has to use some sensors. In this way, though, almost anything can be connected to the Internet. One just needs to find a proper way to talk to these things.
After you have selected something that you want connected you have to form a network over some connection medium to provide a link to the Internet. For forming this network you have the following options:
Ethernet: It's the most widely used method due to the ease of connectivity and the many examples available that help a designer along the path. If you plan to use this method, I recommend that you use an MCU like the NXP LPC1768 that has built-in Ethernet. This is a big advantage over other approaches, such as Arduino, that need additional hardware (such as a communications shield) that can raise the design's cost and size factors significantly. The NXP LPC1768 provides you the combination of MCU and Ethernet in a very compact package. One just needs an RJ45/25 jack to plug in the RD+/- and TD+/- pins. You get both cost-effectiveness and a very small PCB footprint, plus an MCU that has a ton of processing power.

Wireless connectivity: Another way to have connectivity to the Internet is to use a wireless link such as WiFi, GSM/GPRS, or 6LoWPAN.
WiFi can be used where you have an Internet connection and a wireless router. You can then connect small gadgets to commercial WiFi modules and thus through the router to the Internet as well as to one another. Here is an example using the LPC11u24 MCU in an mBed board along with an RN-131C/G WiFly module. An advantage of this module approach is that you gain fully compliant connections and full IPv4 Internet stacks. Disadvantages include relatively high cost and a dependence on the router's connection that in turn depends on the telecom provider's connection. It is not at all suitable for remote implementations.
Continued on next page…